Hello everyone, and welcome to another article here at Legit MTG. Who is excited for Core Set 2021? The new set releases on July 3rd, and there's going to be some fireworks. Make sure you get your pre-orders in over at LegitMTG.com, and bookmark the site for any singles you need.
   
I love Core Sets (as you may know), and there is discussion that this may be the best Core Set ever printed. While I'm sure that will be up for debate for some time let's dig in to what this set has to offer shall we?
Dogs and Cats…living together?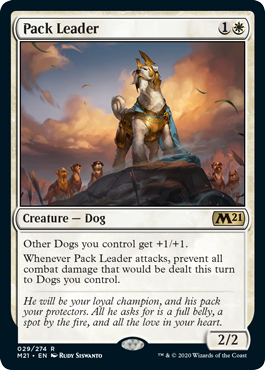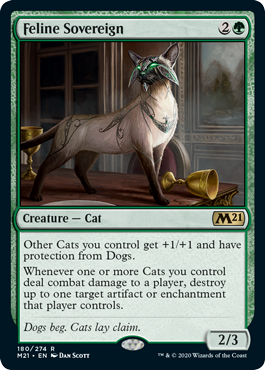 Wouldn't this be a sweet Duel Deck? In Core Set 2021 Dogs are an official card type, and cards with the creature type Hound will now be corrected in the rules as Dogs. For those of you out there who wish to build a deck around these creature types this is definitely the set for you. In fact Rin and Seri, Inseparable is the buy-a-box promo so if you buy a booster box you get that card (which is a Legendary Creature Dog Cat) as a bonus. Now you can build a Commander deck with Dogs AND Cats. Get at it folks! I know you want to.
Reprints?
Yes there are reprints here. While not even 50% full of them there are quality, and needed reprints in this set. Let's take a look at the list:
While the inclusion of the enemy color scry lands is odd keep in mind when Zendikar Rising releases this fall that Core Set 2020, where the enemy color scry lands first saw a reprint, would leave Standard. Keeping these lands available while Theros Beyond Death is legal makes sense. It may be disappointing, but I can understand why they were reprinted.
   
This list above is just the rares, and mythic rares seeing a reprint. Cards such as Ugin, the Spirit Dragon, and Azusa Lost But Seeking were in dire need of a reprint while cards such as Heroic Intervention and Massacre Wurm were also needed especially for Commander players. Keep in mind that Double Masters comes out in a few months so this should whet your appetite until then. What is interesting to note is that Containment Priest is now Modern legal, and Grim Tutor is now legal in Standard after only being printed last century in Starter 1999. 

Are you excited for this set yet? If not perhaps these cards will help you then.
White
Blue
Black
Red
Green
Multicolor, Colorless, Artifacts, and Lands
In Conclusion
Core Sets can bring a lot to the table across all rarities, and sometimes bring along quality reprints. During this period at the end of the current Standard, and before the rotation in the fall, some decks can get stronger and new ones can even rise out of nowhere. What cards are your favorites? What do you look forward to brewing with? Share your thoughts below, and follow me on Twitter as well as Facebook.
Next Week

By this time next week summer will officially be here. So get your sunscreen ready because it's going to be hot, hot, hot!
Until then…
TAP MORE MANA!!!
Tags: Scott Campbell
Trackback from your site.