GP Vegas: An Angel's Guide to Sin City

Travel
Things will be jumping in Las Vegas in June. We are the No. 1 summer destination in America, and in June, the sun is hot enough to let you know you are partying in a desert but not yet at 125 degrees like July and August. June will bring us the World Series of Poker, Las Vegas Comic Expo, Magic Grand Prix, and the Electric Daisy Carnival, making plane ticket prices above average. If you are planing to attend, I would not wait later than when you finish reading this article to start booking hotel rooms and finalizing travel plans.
Through the Air
McCarran International Airport is where you will be landing in Las Vegas. (Unless you have a private plane and are arriving at Henderson Executive Airport, and really, you don't need help saving money, so quit reading this, cheapskate.) Once you arrive at the airport there are several ways to get to your hotel:
 Taxis: The average price for a taxi from McCarran to any hotel on the Strip is $15. The cab driver will want to take the tunnel toward the back streets of Las Vegas Blvd., which will actually be faster then if he took the freeway. You will save five minutes, but it will cost you more because of stopping at red lights. I would request the freeway, not the tunnel, unless arriving five minutes sooner is worth an extra $10 extra dollars. If you are traveling to Fremont Street, which is where the GP will be located, it will be slightly more expensive and absolutely insist on freeway travel.
 Shuttle Bus: These run almost nonstop from McCarren to any hotel on Las Vegas Blvd. or downtown to Fremont Street. The price is usually $6, and there are very helpful people at the pickup/dropoff to guide you to the correct bus.
 RTC Bus Routes: The 108 departs every 30 minutes, taking you down Paradise to the Convention Center and LV Hilton. When it stops at the Paradise/LV Blvd. intersection, you may exit the bus and take the Deuce bus either north or south on Las Vegas Blvd. The 109 bypasses the Strip altogether and goes downtown. Both buses cost $2.
Across the Land
Is flying directly into Las Vegas too expensive? What about flying to nearby cities with a little cheaper airfare and hitting the open road? Los Angeles, Phoenix, and Salt Lake City are all within a five-hour drive. Thousands of people from these nearby states pour into Las Vegas every weekend.
 Car: If you are road-tripping into Las Vegas, it's best to leave on Thursday to avoid heavy traffic (especially if coming from California). One day we will be a big boy country that connects major cities like Los Angeles and Las Vegas on something bigger than a two-lane farm road, but alas, today is not that day. When driving from California on the I-15, remember you are crossing desert. Bring lots of water in case misadventures occur and you are stuck on the side of the road.
The main freeway connector for Los Angeles (four hours in regular traffic), San Diego (five hours) and Salt Lake City (six hours) is I-15. Denver (11 hours) is I-70 and Phoenix (five hours) is U.S. 93.
  Bus: Let me tell you about a little secret. Locals use it to escape Las Vegas, but you can use it to come to us. It's called Lux Bus and operates several trips daily to Sin City from Los Angeles, Anaheim, and San Diego. It has leather seats, WiFi, onboard movies, seatback audio featuring Sirius radio, and an onboard attendant who will bring you snacks, beverages, blankets, or pillows. The average cost roundtrip is $99. For less than what you might pay in gas for a roundtrip to Las Vegas, you can save the miles on your car while sitting back and letting someone else worry about the traffic on I-15 while you surf the web.
If Lux Bus is too rich for your preferred type of vagabond travel, there also is Megabus, which runs daily trips from Riverside and Los Angeles for the whopping price of $16. Can't beat that with a stick. A majority of the Megabuses operating between California and Las Vegas do come with free WiFi, but it is not guaranteed. Not all of their fleet has been updated.
Of course, if you would like to stick with ol' faithful, Greyhound operates between Salt Lake City, Kingman, Los Angeles and Phoenix, all with stops in Las Vegas.
Hop a Train
I am unaware of any trains that stop directly in Las Vegas but have never attempted train travel, so my knowledge is lacking. Amtrak operates daily trips from Los Angeles and Albuquerque to Needles, Calif., where they bus service to Las Vegas from there. There is also a route that operates from San Francisco to Bakersfield, where you would then be bused into the city.
On Foot
Walking Las Vegas Blvd. is an experience like no other. Besides the variety of people and cultures you will see, there are street vendors, outdoor shops, and extravganzas like the pirate show at Treasure Island or wistful fountains at the Bellagio. During the summer months, walking the Strip can be taxing on your health. Everything appears in walking distance but it is not. If you are traveling more than two blocks (they are really large blocks), consider some of the other options:
 Bus: The Deuce bus is the best way to travel Las Vegas Blvd. It is $2 for single-ride fare, and, most importantly, is air conditioned.
 Monorail: Or as locals call it, the big damn money sink. The monorail is $5 for a one-way ride and $15 for a day pass. If you are with a group, it will probably be cheaper to hail a taxi. The monorail also stops behind the hotels, so it can be quite a walk and confusing getting to the boulevard. If you have a local in your group, I might consider this form of transportation because a valid Nevada ID authorizes the locals' fare of $1. Also, why build a rail that doesn't connect to the airport? FAIL.
 The Locals Rail: Locals don't hang out on the Strip often, but when we play tourist we do it for free. There are FREE monorails you can hop all the way up and down the major part of Las Vegas Blvd. There is a free tram that runs from Mandalay Bay to Excalibur to the Luxor. You pop out and are right in front of MGM Grand and next to New York-New York. Still want to go further down Strip? Take a quick jaunt past New York-New York Casino and enter the Monte Carlo, where you can catch a free tram all the way down to Belliago. Hop out, enjoy the fountains, walk past Caesars Palace, and you can hop a free tram from Mirage to TI. At TI you can cross the street and get lost in Venice at the Venetian/Palazzo or simply cross the street for some shopping at the Fashion Show Mall. Pay close attention to the tram lines on your left, because they are the free ones.
Rest Your Head
The Convention is being held downtown at the Cashman Center, and the closest hotels will be be on Fremont Street. Cascade Games is hosting the event and has blocked out two hotels — the Golden Nugget and the Golden Spike — with special rate codes for the event. Check their website for discount codes. Because EDC will also be in town, I highly suggest you book your room in advance. The entire city could be sold out or at extortion-type rates if you wait. Here is a list of hotels you might choose to rest your head:
Foodies Guide
I have lived in Las Vegas since I ditched my little hick town when I just a wee girl of 19 years old. I have seen many culinary trends come and go, restaurants succeed and fail. Food is such a personal choice that it was hard for me to narrow down guidelines for picking recommendations. What I came up with: important to Las Vegas food culture, good, and maybe offer something you can't get back home. What it can't be: a mall-staurant. Yes, we all love Fogo/Texas de Brazile and many others, but those are in your city. Here is what is special about mine.
Highbrow Dining
The problem with anyone (of any foodie caliber) recommending a fine dining restaurant is twofold. People who can regularly fork out hundreds of dollars on one meal tend to know what they want and be a chef groupie. They find the chef whose food fusion fits them best and rotate between his/her restaurants. People looking for what I call "event eating" will save for a year for that one restaurant to top off their experience. They live outside the lines, blowing money like they had it. These people will spend hours researching every food critic site available and then grill the locals upon arrival.
The best I can do is tell you what a little foodie from the sticks turned Vegas knows. Wolfgang Puck was the first to see the potential for elevating Las Vegas food culture when he brought Spago to Caesars. It has been there almost 16 years; every meal you get is still delicious and the service hasn't waned. But while Spago is a failsafe choice, we will begin our list with another restaurant owned and operated by Wolfgang …
CUT (Palazzo Resort and Casino)
Wolfgang is the grandfather of Vegas fine dining and is still revolutionizing dining in my city. Besides being named one of the top three steakhouses in America by Bon Appetit Magazine, CUT has an amazing location/atmosphere. It offers a lounge/bar area where you can order Wolfgang's famous appetizers (I recommend the mini-american Wagyu beef sliders). If you want a simple cocktail and fine food with friends without the $100 price tag of dinner, CUT Lounge is a perfect choice. For a meal, I prefer the dry-aged petit cut new york, but his meat selection is second to none. If Cut is too modern for your taste the Palazzo also offers the second best steakhouse in the city: Carnevino. If you feel like expressing your pimpness, I recommend the dry-aged bone-in ribeye. Mario Batali stops in regularly to check on things, and I usually order from their excellent pasta menu. SW Steakhouse at the Wynn has a view of their water feature that is truly stunning. The seating is a bit cramped for my style but the food is worth every penny. One of the new houses (and chefs) to grace our city is Gordon Ramsay Steak. Located at the Paris Hotel, it features his signature dish, which happens to also be my favorite food on Earth: beef wellington.
L'Atelier de Joel Robuchon (MGM Hotel and Casino)
What can you add to the man, the myth, the legend? France's Chef of the Century has brought the very best France has to offer in an atmosphere where you will feel out of place if you don't know your salad fork from your dinner fork. It is a tapas-style presentation where you can order from a five-course menu to taste some of the best food your neglected mouth has ever encountered. If you have a great love for French food (after all they did invent food) and are on the opposite end of the Strip, Guy Savoy at Caesars Palace is it. They have a brand new 13-course menu where you can order many of the same meals he creates at his original home in Paris. It is also worth mentioning the 3 Michelin Star Chef Pierre Gagnaire opened Twist at the Mandarin Oriental, and his only restaurant on American soil is everything you would expect from such an acclaimed chef. The beauty of this restaurant is unparalleled in Las Vegas. It has golden globes that float above, making it feel like you are truly having a magical experience.
Bartolotta (Wynn Las Vegas)
If you are a fine-dining vegan/vegetarian or just love the quality of good fresh fish, this place is for you. Because of the art Paul Bartolotta has in ordering and preparing his fish, this Mediterranean-style place comes with a price tag and a dress code. If you get a little queasy around the pretentiousness of the upper class, I would probably just skip the Wynn Hotel altogether. They are not trying to cater to your average American tourist. I am a big lover of pasta and fresh fish, and Bartolotta is the premier at both. If you are a lover of Italian food and would like something with the feel of a sidewalk cafe eating pasta that Grandma Italy must of made by hand, then you want to visit Trattoria Reggiano at the Venetian inside the Grand Canal shops. Situated right next to a cute little magic shop and Coffee Bean is a hidden gem of our city that gets overlooked by flashy grand dining rooms and flashier chefs. Trattoria Reggiano serves piping-hot garlic rolls to your table that melt in your mouth and make you want to scream mercy. My favorite meal there is the Spaghetti Aglio e Olio. The pasta is so good, why smother it in sauce; just olive oil and crushed red pepper is all a girl needs. I am about to make a bold statement: They make the best cannoli you have ever eaten in your life. Proceed with this information as you see fit. The prices are much more reasonable then most mega-fancy restaurants you will find but don't let the small cafe style fool you, their food puts the big dogs to shame.
Local Haunts
A country girl likes to be treated to fancy meal just as much trust fund baby, but I don't always agree good food needs to be wearing a ballgown. Everyone who lives in Las Vegas loves to get dressed up and go eat on the Strip at the many restaurants of the masters, but our local joints are home. That is where our feet start toward most often. Here are some of my favorites you might not see on a tourist guide to Sin City but will be worth the journey outside the neon mile.
Raku
If it is a late Monday night and your want to see where all the chefs in Las Vegas will be enjoying dinner on their one day off, walk into Raku. I have never been to Japan, but I have had many Japanese tourists tell me it is the best Japanese food they have had outside of Japan. It does not open until late afternoon and stays open until three or four in the morning. It doesn't matter what time you plan on going, though, because the locals have beat your there. I would call today. In fact, pause reading the article and pick up the phone if you want a reservation during GP Vegas weekend. The ingredients are fresh with many flown in directly from Japan, and when the special sells out, it's out. Raku makes their own tofu, and let's be honest, they make their own homemade everything. My favorite is the Enoki mushrooms wrapped in bacon followed with the green tea creme brulee. This mecca of local cuisine is located very close to the Strip in a run down Chinatown mall.
Eat
Vegas is all about betting the house and that is exactly what chef Natalie Young did when she built a breakfast-and-lunch neighborhood cafe in the rundown and embattled downtown. Because many of you will be staying downtown to be close to the GP Vegas convention site, do not miss this little gem of our city. She uses farm-fresh, locally grown ingredients and puts a fine-dining taste on the most important meal of the day at a price that won't break the bank. The feel of this place is just plain happy and cozy, and the staff is absolutely lovely. I recommend the truffled egg sandwich but they make a mighty mean pancake, too. Her lunch menu is equally as appetizing with my favorite being the grilled cheese sandwich  It ain't like what mommy made; it's better. Building away from the Strip is a risky proposition, and building downtown is even riskier. But the food served at eat is one of the many steps needing to bring back the glory days of downtown Las Vegas. For those staying on the Strip without easy transportation downtown, I would highly recommend The Peppermill. It may be located on Las Vegas Blvd., but the Peppermill always has and always will belong to locals. It is one of the truly old-school Vegas joints left (and rare freestanding restaurant on the Boulevard). They serve unabashed greasy, stick-to-your-hips diner food and have a fire-pit lounge attached. It's easy to eat while talking by the fire with friends and bringing in the dawn. This is definitely an old Vegas comfort joint. I can't count the number of times this place has been featured on "CSI: Las Vegas," and it has also made appearances in "Casino" and "Showgirls." If you happen to make Top 8 and are looking for a celebration treat — or if you just need to find solace in the bottom of an ice cream bowl — I highly recommend their colossal sundae. It is everything it sounds like it should be and more.
Lotus of Siam; Kamol
Lotus has been called many things — amazing, delicious, best Thai food in the country, but most importantly it is ours. Lotus is a Vegas institution and no restaurant in a mega-resort on Las Vegas Blvd. has had as much success or praise as our Lotus. If you are on Twitter even a little, you will see Pro Tour player after Pro Tour player tweeting their meals from Lotus and making each other jealous. When I finally met my editor @Justin_DZ, who loves Thai food, I chose first to take him to the local legend.
When he comes back, though, I will be taking him to Komol, whch is in the same shopping center as Lotus of Siam and in my opinion better and cleaner. The decor is beautiful and the food just sparks. Don't get me wrong, Lotus is fantastic; but Komol is a Thai lovers dream and is super friendly/tasty toward their vegetarian friends. It has the largest vegan/vegetarian menu in the city to go along with their amazing Thai presentations. If you like to color outside the lines a little, I highly recommend trying Komol over Lotus, especially if you have already had Lotus several times. If you find you are still tilted that your favorite Pro Tour personality lost you your Pro Tour fantasy draft and aren't ready to breathe the same air as them, head back to the same rundown Chinatown mall we found Raku in to grab some of the freshest, best sushi of your life at Kabuto. Almost their entire menu is imported from Japan and they serve Edomae Sushi, which is french for fantastica. You will definitely want reservations here just like Raku, but if both are full, don't despair because the trificta lives there. Just pop in to Monta Ramen, which is located right next door, and feast like a king.
Chocolate and Spice
I am a baker. I am not a master baker by any means, but I can hold my own and I know my craft. This is hands down the best bakery in Las Vegas. I highly recommend dropping in for brunch and taking some of their melt-in-your-mouth zucchini lime muffins to go, along with a little divine chocolate treat for your sweetie back home. While not strictly a locals place, Thomas Keller has has one of the biggest effects on the Las Vegas landscape with his French Bistro Bouchon. If you don't have the wheels or money to make it off the Strip, I highly advise you walk yourself to the Venetian Hotel and enjoy some of the most amazing French pastries and baked goods the city has to offer. There are several Bouchon bakery booths located throughout the main Casino if you don't have time to swing up the Venezia Tower to the actual restaurant.
Because we are on the topic of French bistros, I was hesitant to even mention my favorite locals place that offers amazing wine and French course meals at half the price of every Strip restaurant but with better flavor. It is still visited mostly by locals and the tourists haven't flocked to claim it as their own. But I know there are some amazing couples traveling together, so I couldn't be that selfish. Marche Bacchus is probably my personal favorite restaurant in Las Vegas. It is located about 10 miles from the Strip in the heart of Summerlin on Lake Jacqueline. I have a deep love for French cuisine and you can choose from almost 1,000 labels of wine and even bring home your own bottle from their attached wine shop. It is a truly relaxing, lovely experience with phenomenal food and even better wine.
Pizza!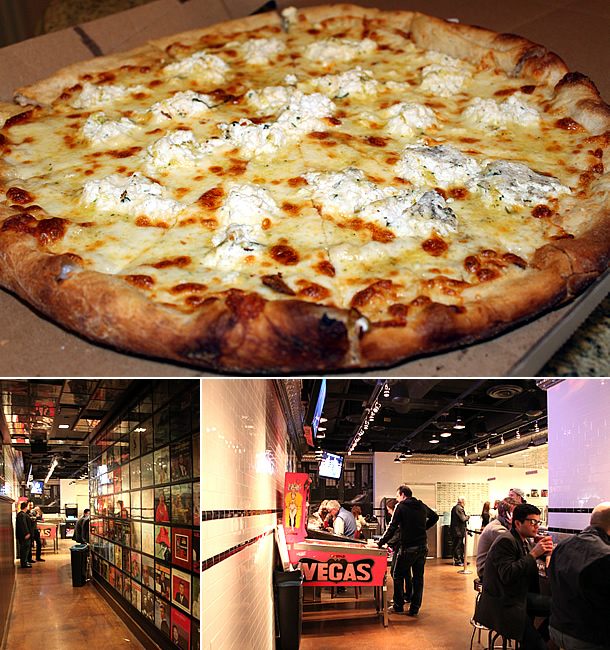 There are a few great options so I will start with my favorite and expand from there. Naked City Pizza is one of those places you have to hear from a friend of a friend who ate there once and swears to Zeus it's the best pizza she has ever eaten. It's located inside Moon Doggies Bar. Lets not misunderstand each other. Moon Doggies is a bit of dive bar, but Naked City Pizza really is some of the best Pizza you will ever devour. Their white cheese pizza is pure greasy, cheesy bliss. The most famous local pizza shop (meatball sliders, hell yeah) is Metro Pizza. I actually order pizza from this place more then any other pizza shop. My favorite pizza they bake in all its ooey, gooey goodness is the eggplant pizza. It sounds crazy. Try it. It is divine. If you can't leave the Strip, there is a hilarious place called Secret Pizza. It is located on the third floor of the Cosmopolitan Hotel. There are no signs, no window postings you "are here." It is, after all, a secret. If you love a well-done slice of New York-style pizza, it is worth trying to locate this hidden pizza shop. They have great prices for "Strip food" and the pizza is second to none. It is also hilarious at three in the morning when there is a huge line of very drunk people who just left whatever fabulous club they were at to grab a slice of this delicious pie.
Entertainment
I am not your tourist guide. I don't know if you like trips by helicopter to the Grand Canyon or indoor sky diving, but I do know you are coming to my city because you are a gamer. So let me tell you about two places no gamer should miss.
Insert Coins: Welcome to adult gamer paradise. This bar, complete with VIP Booths equipped with X-Boxes to challenge your friends, has everything from old-school arcade games like "Street Fighter" to PS3 stations at the bar so you can fatality your friends while you sip your favorite adult beverage. On the weekends they have DJs (usually techno mixes) and a small dance floor if you need to get out some gaming energy. If you are staying downtown, look no further for your nightly entertainment.
Las Vegas Pinball Museum and Hall of Fame There is nothing that will ever mean gaming more to me then hearing the sound of a pinball machine tilt. I have spent hours upon hours trying to beat anyone I could at pinball. There is just something about the pinging of the balls, flashing lights, and random beeping sounds that make my heart race. I love this place, and it's only 25 cents to play some of the most classic pinball machines ever created. Make sure to test out some of my favorite machines: Addams Family, Night Rider, and Popeye. Let the banging and clanging commence!
Safety First
When I see city guides it always strikes me as odd the safety tips are usually small and easily skipped over. What is more important than you and your safety? Nothing. I can't imagine living anywhere else but Las Vegas, where everything comes to me, including world tours, operas, Broadway, conventions, and finally, my Magic: the Gathering. However, my love for my city does not cloud the reality of my city. Las Vegas is a grown-up place for grown-up people. It is the Disneyland for adults and comes with all the adult problems. You are going to have a blast at GP: Vegas, but while you are doing it keep the following in mind.
Protecting your person
The mix of being one of the most popular tourist destinations in the world and gambling can draw an unsavory element to the city. Las Vegas has an entire city full of devoted and hardworking people who spend their lives serving tourists from all over the world. It also has a large element of hustlers and ne'er-do-wells whose full-time job is to try and swindle you.  
DO NOT leave any valuables in your car. It doesn't matter if you are parked in a hotel garage or at the convention center. Do not leave anything at all in your car. Period.
Before you leave on your trip take every non-essential item out of your wallet or purse. Your favorite photo of your baby? Remove it. Your Social Security card? You don't need that to travel, remove it. My wallet looks like this when I travel: driver's license; debit card/credit card I will use (all others removed); AAA card; cash on hand.
Las Vegas has a fair share of pickpockets and purse snatchers. Do not ever set your purse down at your feet (even if it is in front of your feet) while gaming at a slot machine or table. Put the strap over your body if it has one and your purse in your lap. Same goes for backpacks. If you carry a wallet, put it in your front pocket if possible.
Hotel Safety
Las Vegas is the No. 1 summer destination in the United States and No. 1 gaming destination in the world. We have some of the most luxurious hotels ever built. We know how to make your visit the best vacation you have ever had. But despite a hotel's best efforts, things can become Unhinged. Lets make sure your trip doesn't.
When your luggage is in your possession, act like it is the Power Nine. If you check out of your hotel early and plan on seeing the sites, check your bag at the front desk to retrieve before you leave the city.
When you exit your suite, shut the door. Take a moment to turn around, face the door, and push on it. Any large building (especially older towers like those at Caesars Palace or on Fremont Street) settles and shifts. Sometimes the doors warp a little and don't close properly on their own. There are a group of criminals called "door pushers" who attempt to gain entrance into hotel towers by simply walking up and down the halls pushing on doors until one opens. Never leave your door cracked, even if just going for a bucket of ice. And always be aware of your hotel key.
When you turn in for the night, deadbolt your hotel room door and engage the chain lock. Do not open your door for anyone you are not 100 percent sure is with the hotel and has a valid reason to be there (e.g., you called for room service or housekeeping). A common occurrence is intoxicated people trying to find their suite and thinking your room is theirs. You do not need to deal with this, which is why the hotel has a security staff. Call for security so they can come see what the person knocking on your door wants.
Keep all your valuables in the room safe provided by the hotel. This includes plane tickets, wallets, jewelry, electronics, medications, and your very expensive Vintage/Legacy/Standard/pimped-out EDH decks. Hotels work very hard (background checks, investigations, training) to hire honest and loyal employees, but they are your items to lose and to protect.
Get Lucky
Major casinos are very safe. They have huge security forces and staff everything from K-9 officers to emergency medics for their guests' and employees' safety. If you happen to toss a few coins in the machine or let the dice roll and win a large amount of money, here are some things you can do to protect yourself:
Let the casino be your bank. Ask the casino to hold your winnings until you are ready to leave and go home. This way you won't have large amount of cash in a hotel room you are probably sharing with five other guys (I'm sure your friends are standup people, but why risk it).
If you can't do Option A, ask the casino to pay you with a check. This way you are not walking around with large amounts of cash on your person.
If all else fails and you must have the winnings in Benjamins, ask the slot attendant who cashes you out to call for security and have the officer escort you to your car or at least off the property.
Sex in the City
Are you an adult who likes discovering their sexuality? Well, we have many ways to be of service from all-nude strip clubs to burlesque shows to Chippendale's (That's right ladies, I got your back). One way you should not discover your sexuality while visiting is by purchasing it. Despite what you heard or saw on TV, prostitution is illegal in Clark County (where the Strip resides). You can be arrested for it. The women and men who work Las Vegas Blvd. are part of an insidious and violent sex trafficking ring that leaves a huge path of devastated lives in its wake. The average age a prostitute in Las Vegas was "turned out" is between 12 and 14. They may seem like they are making choices of their own free will, but it is much more complicated than that and also false.
The person you are paying to have sex with doesn't really want to have sex. In fact, they would rather be doing just about anything else. They can't go back to their pimp without money though, so being resourceful, they have perfected the art of the "trick roll." They just rob you. This happens every day in every hotel. You bring a stranger to your suite, take one minute to use the restroom and all the sudden your wallet/money/watch/wedding ring have walked out the door. Or they drug or assault you and just take your money the old-fashioned way.
You have been robbed. No matter what kind of inventive story you try to tell the police on why this strange female was in your room, they know the truth. You were committing a crime and while committing that crime you got hoodwinked and now want help. The chances of them finding the person who robbed you are small. Even if they do, you will have to come back (at your own expense) and testify in open court that you committed a crime. Save yourself the trouble. Play Magic, hang out with friends. Don't endorse or condone the sex slave industry.
Don't Feed the Trolls
In this country we have certain freedoms and rights like being in a public place and freedom of speech. Casinos are able to keep most street performers/homeless/hustlers out of their establishments because they are a private property. They can refuse service to anyone for any reason. But Las Vegas Blvd. and Fremont Street fall under different rules. Clark County has been trying to regulate and fight the overabundance of street performers for as long as I can remember. Street performers, homeless, porn peddlers, and the many others who work on the streets of Las Vegas Blvd and the Strip are there for one reason: to relieve unsuspecting and uninformed tourists of their hard-earned money. Don't be that person. Here are some basic guidelines:
Homeless: I regularly watch the money handed to them flow into the hands of drug dealers or slot machines. A large portion of the homeless community (close to 100 percent) have serious mental health disorders that need real medical care. They are not imaginary, made-up problems. Their diseases, including gaming addictions, drugs and alcohol addiction, personality disorders, and schizophrenia, are just as real as cancer, high blood pressure, and diabetes. If you want to help these people (who absolutely need help) donate your $20 to a center that provides free mental health care to the poor/disabled. Give it to a shelter for the homeless or abused and battered women. Give it to a food bank, or simply donate your time.
Porn peddlers on Las Vegas Blvd: Just walk by them, don't engage. The cards they hand you are an attempt to get you involved in an activity we already discussed was illegal (prostitution). They regularly are busted for drug peddling and various other nefarious activities like pick-pocketing, assault, and outright theft/robbery.
Street performers: While walking down the streets of Las Vegas, you will see men and women in costume dressed as Hello Kitty and every superhero you can imagine. The goal is to get you to take a picture with them and then give them money for it. According to county ordinance, naming a specific price point for services is illegal. But they will try to argue with you if you snap a photo op and then attempt not to tip/pay. Because I see on a regular basis what the street performers do with the tips, I would never stop and engage them for any type of service. I certainly would not let a stranger on a street in a mask (who has never been through any type of background check to gain employment) pick up and hold my child.
@RevisedAngel on Twitter
Heather Dawn Meek on Facebook
RevisedAngel on Tumblr
RevisedAngel on G+
Tags: GP Las Vegas, magic the gathering, Modern Masters, mtg, Sin City
Trackback from your site.