Kranny's Cube Review for Dark Ascension
Welcome to the Dark Ascension Cube review! If you're like me, you don't want to spend your hard-earned money to pick up a card for your cube only to bench it a few weeks later.  This is especially important after a new set is released and presale prices are inflated and most of the sleepers are waiting to be discovered.  Or maybe you just don't have the luxury of spending hours on end to test new cards.  Luckily for you, I have done a fair amount of testing with the new cards and have gone through the entire Dark Ascension spoiler to pick out cards I believe are good enough for cubes of all types and sizes.  Enjoy!
Rating System
Pass:  This rating is given to a card which might be fringe-playable, or very archetype-specific.  If you're one of the few who push the less supported archetypes, or if it's an effect you want an additional copy of in your list, by all means run it.  But these likely aren't good enough for most cubes.
Play:  I try to avoid using the word 'Staple,' as I am consistently surprised at how different cubes look with each passing block.  This rating means you absolutely should check these cards out.  They're either best in class at what they do, or testing has proven them to be more powerful than expected.
Test:  Somewhere between Pass and Play is Test.  Cards with this rating will greatly vary in value depending on the list.  My list, for example, runs a lot of blue-based aggro/tempo cards as opposed to having blue in the traditional role of control color.  While some of the new flyers would be rated as 'Play' in my list, your mileage may vary.  Regardless, these cards are very powerful at what they do.  So if you have an opportunity to test them in your list, you should!
Note:    Any unlisted cards were ignored for not being good enough for mainstream cube lists, or so specific to special cubes (Zombie, Tribal, Flavor, etc.) that they weren't worth mentioning.  I also frequently reference cards in the context of being tested in my cube which can be found here.
Whenever any Arrest effects come out, it's always best to make sure not to dismiss it right off.  You never know when you have the next Faith's Fetters on your hands.  Burden of Guilt is interesting in that it only costs 1 mana to cast, but sucks up quite a bit of tempo to use.  This probably won't make the cut in most cubes, but the fact that it's common means that it could be useful in Pauper lists.  If you're dying for an extra Arrest effect, give it a try.
Verdict:  Pass
I am a big fan of token strategies and have been pushing Anthem aggro very aggressively lately.  However, this probably isn't much more useful than Raise the Alarm.  I not sure if the Fateful Hour mechanic will come up often enough to give it the edge.  If you're looking for an extra token generator, this might be a good fit.
Verdict:  Pass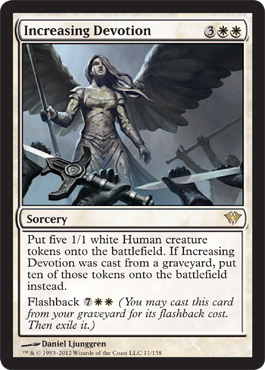 After three passes in a row, we're not off to the best start.  Lucky for us, Increasing Devotion is much higher on the power scale than our previous cards.  For five mana, we get five power worth of tokens.  For another nine mana, we can have 10 more.  If you have just a single Glorious Anthem effect on the board, that's five mana for 10 power.  If you get cards like Wake and other big mana enablers, you can very realistically Flashback this spell just a turn or two after you initially casted it.  If you are a big fan of token strategies like I am, this is an auto-include.  Even if you're not taking your cube in that direction, this card is worth looking at.
Verdict:  Play
More token support; excellent!  In Innistrad, we were introduced to the very powerful Midnight Haunting.  I initially added it as a less potent, instant-speed Spectral Procession and haven't been disappointed.  Lingering Souls has an extremely aggressive Flashback cost.  The initial effect is fairly-costed enough that I could definitely see a lot of lists running this.  Whether you're running Pauper or Rare lists, Lingering Souls certainly deserves some testing.
Verdict:  Test
Cathar's stats aren't particularly impressive, but he does exactly what aggressive decks want to do: apply pressure.  This was one I knew I would have to test before passing judgment, and so far he's been fantastic.  If your cube has room for a creature with double white in its casting cost, then I suggest making room.  He's just slightly below Knight of Meadowgrain and Silver Knight in power level, but better than White Knight, Whipcorder, or Kami of Ancient Law.
Verdict:  Play
This would be one of those cards that is difficult to evaluate from the onset.  It's an effect we haven't really seen at this casting cost before.  For two mana, you get a splash-able 1/1 flyer that provides a way for your team to push through extra damage.  I like that it wears equipment well and is in a color that could take advantage of its weak stats.  The ability to take out your opponent's best blocker is huge.  I expect this guy to start showing up in more lists as the word gets out.
Verdict:  Test
I want to take a moment to point out how much higher the power level of creatures has now become compared to a few years ago.  Had this guy been printed in Lorwyn Block, he would have likely made the cut.  These days, 5/5 flyers for six mana are a dime a dozen.  If you love Spirits or Angels and want to play it for flavor reasons, go for it.  Otherwise, this one is a pass.
Verdict:  Pass
I misread this card a grand total of three times before finally realizing what it does.  I thought I might be able to take advantage of Séance in my Blink decks, but found out very quickly that the lack of Haste made this card unplayable.  If you must have something like this enchantment in your list, I would suggest something like Debtor's Knell or Coffin Queen instead (neither are very good either, unfortunately).
Verdict:  Pass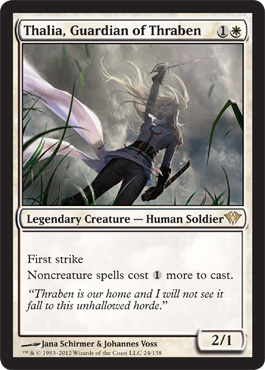 Remember that comment I made about staples? Well, it still applies.  However, it'll be a while before this guy gets outclassed by another white 2-drop.  Be mindful that Thalia's ability will turn off your own land destruction, Counterspells, removal, Anthems, and token generators.  Where she really shines is in decks which can clog the board with small creatures and lock your opponent out of the game with a well-timed Tangle Wire or Armageddon.
Verdict:  Play
At first glance, Thraben Doomsayer appears to have pretty weak stats.  As with Lingering Souls and Gather the Townsfolk, Doomsayer's power goes up dramatically as support in token decks.  He's been on a test run in my list and has performed decently so far.  His Fateful Hour ability has triggered several times and killed my opponent on the spot, which is why he has stuck around.
Verdict:  Test
Beguiler of Wills is probably over-costed by roughly one mana.  He's awful on an empty board and a pretty bad top-deck in the late game.  It's nice that you get to keep the creature forever, but Beguiler just isn't good enough.
Verdict:  Pass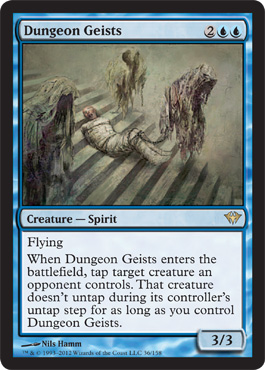 Whether you support blue-based aggro or not, there's no denying that Dungeon Geists is a powerful creature.  A big, evasive body that blue decks of all types can use means you're likely to see him pop up in many lists.  Out initial testing has shown him to be slightly less powerful than Sower of Temptation, but better than cards like Riftwing Cloudskate or Sun Ce, Young Conqueror.
Verdict:  Play
I initially skimmed over this beast of a creature the first few times I was making decisions on what to add or remove for the Dark Ascension update.  Initial impressions of Undying are quite positive.  If you can trigger his ability with the help of Makeshift Mannequin or Recurring Nightmare, there is very little your opponent can do to prevent being decked.  If you have a mill theme in your cube, or just want to try out new blue finishers, he might be worth testing.
Verdict:  Test
I'll put this as simply as I can: If you support Mill, run this card.  If not, then don't.
Verdict:  Pass
When I asked a friend who had this in his DKA sealed pool about its performance, his response was, "He just doesn't die."  I typically don't include the 3/4-drop vanilla flyers in blue, but I am willing to make an exception for this creature.  He comes down early, wears equipment like a champ, is Reveillark'able, and can be played in Common/Uncommon cubes.
Verdict:  Test
Fiend is a little slower than I'd like for the effect it provides.  However, it's in a slot in black's curve that just doesn't have a lot of options.  If you heavily push discard strategies, I'd say give this card a go.  Otherwise, it's a pass.
Verdict:  Pass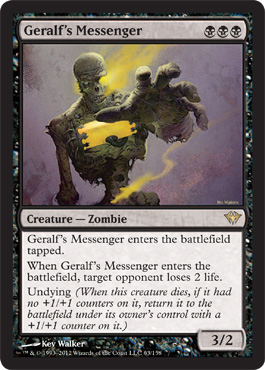 I've gone on record several times that Geralf's Messenger is my favorite card in the set.  Messenger's prohibitive mana cost means he's likely not to make the cut in many lists.   In the cubes that are able to run him, I believe he will be among the best 3-drops a black deck can play.  In practice, he's been absolutely devastating.  I haven't run into issues with hitting triple black in decks that can support him.
Verdict:  Play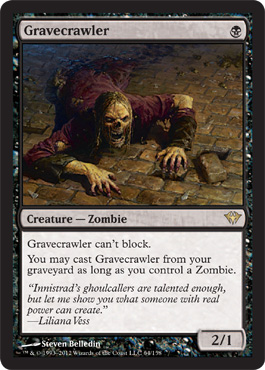 Wizards apparently likes us Cube'rs.  They have given us several beaters with two power in the past few years.  Gravecrawler is perhaps the most powerful of the bunch.  There's plenty of room for another cheap aggro critter in black, whether you have the zombies to support his reanimation ability or not.
Verdict:  Play
Mikaeus is big!  He has a lot of abilities, so he at least deserves to be checked out.  He's unblockable against non-black decks and can pump your team if you're running a bunch of non-human creatures.  I recently decided to give Sheoldred, Whispering One a slot over Mikaeus, and wouldn't fault anyone for wanting an additional black finisher.
Verdict:  Test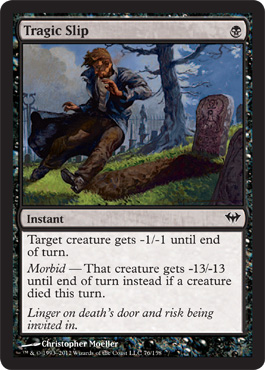 Black has no shortage of removal spells that cost one, but I think the others have met their match.  With a little finesse, you can take out any non-shroud/hexproof creature in the entire cube, including regenerators.  If you're still running Disfigure or Ghastly Demise, consider swapping in Tragic Slip for an upgrade.
Verdict:  Play
At first this just looks like filler.  After seeing it in action in DKA limited, I believe it may have a place in cubes.  For one mana, you can re-use your ETB effects or save a 'fatty'.  I have visions of second uses out of a Flametongue Kavu, Avalanche Riders, or Bone Shredder.  The fact that the returned creature gets the +1/+1 bonus is gravy.  If you support Blink as an archetype, then I expect this card will do very well for your cube.
Verdict:  Test
Ripper is a slight upgrade to Slith Firewalker.  As a common, this guy should see all sorts of play in Common cubes.  Unless the cube owner is stretching for three-drops in red, I don't expect to see this in other lists.
Verdict:  Pass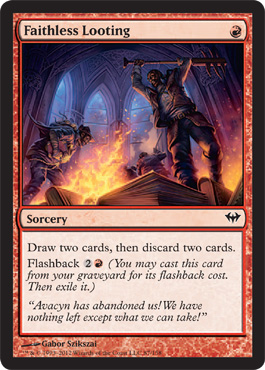 This is my second favorite card in the set.  Looting is the Swiss Army Knife of sorceries and a very welcome effect for red.  For the mere cost of one red, you can filter the excess lands out of your hand and replace them with relevant cards.  You can ditch those high cost spells to ensure you hit your extra land drops.  You can even use it to fuel graveyard-based strategies.  It can also take advantage of cards like Crucible of Worlds or Life from the Loam.  A true five-star card!
Verdict:  Play
If this was a 'may' ability and could dome players, it'd make the cut.  Since you can't play it on an empty board, it's rather useless.
Verdict:  Pass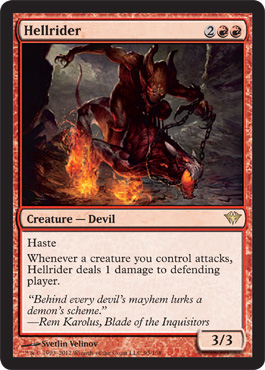 Is Hellrider the second coming of Keldon Champion?  Testing says yes!  Hellrider is an ultra-aggressive curve topper capable of finishing off your opponents in a few turns.  He's best in decks that clog the board with creatures, but he's not awful on an empty board.
Verdict:  Play
Blademaster has extremely weak stats, but is capable of killing your opponent in just three swings.  I dislike the lack of Haste, but he the card still has potential.
Verdict:  Test
This is another creature where Haste would have solidified him in my list.  He makes combat a nightmare for your opponent, but has pretty awful stats.  Splash-ability might make him good enough for a few lists.
Verdict:  Pass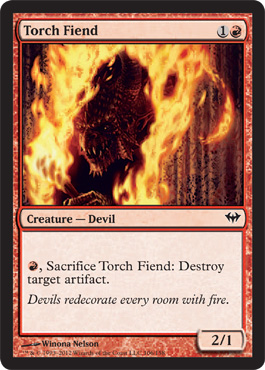 Another upgrade!  If you like Hearth Kami, you're going to love Torch Fiend.   How can you not like a creature that can wear the various Swords in the format?  This should be in all cubes.
Verdict:  Play
This isn't the most exciting spell in the set, but its versatility cannot be denied.  Is it better than cheaper spells that also hit enchantments?  That depends on your cube.  In a Commons/Uncommons cube, I would run this over Naturalize.  In a regular cube, I would test this over a more expensive Disenchant like Krosan Grip or Bramblecrush.
Verdict:  Test
It's amazing how much design space was opened with the removal of damage going on the stack.  This guy would have been 10 different kinds of good before, yet now he's just decent. Most lists are running Sakura-Tribe Elder and many are running Viridian Shaman.  If you like the effect and want another solid green 2-drop, test the Elk.
Verdict:  Test
If you're not careful, you might miss out on little gems like Deranged Outcast.  On paper, this guy appears pretty weak.  But if you push a tribal cube or have lots of human support, then Outcast could be a good fit.  My only gripe with this guy is that many of the older cards didn't have the full creature type printed on them.  This makes determining if that Knight was a Human Knight or Elf Knight, etc.
Verdict:  Pass
I love the idea of recycling big dorks like Acidic Slime or Woodfall Primus for a pack of wolves.  Sadly, I don't think this card packs enough punch.  If the sacrifice was relative to the mana cost, that would be different.  As it is, I am not convinced this will see play in cube.
Verdict:  Test
A popular question in the cubing community is, "At what cost would you play a vanilla 10/10?"  We have our answer.  If you have a deck built to abuse the graveyard, he can come down for considerably less.  Yes, he can get chumped into oblivion, but that hasn't stopped big, dumb, green creatures from being good before, has it?
Verdict:  Test
It's a shame that mono-green aggro decks aren't better than they are.  Ooze has the potential to get big very quickly, but its prohibitive mana cost means he won't make the cut in most lists.  I think if he had slightly better stats, he'd see play despite his mana cost.
Verdict:  Pass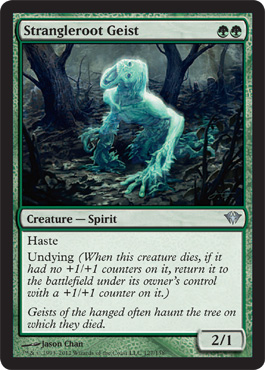 Now here is a green aggressive critter worth talking about!  For two mana, we get a hasty beater that comes back bigger and tougher.  Undying is turning out to be one of the more powerful mechanics in recent memory.  Equipment and Anthems have never been better!  He's also an uncommon for your non-rare cubers.
Verdict:  Play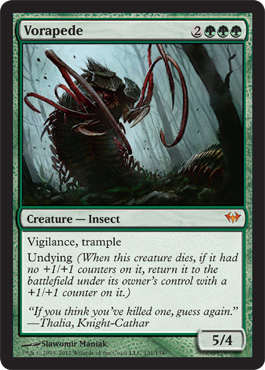 Kodama of the North Tree has always been a favorite of mine, but ultimately got cut for being a big, dumb do-nothing.  Vorapede, on the other hand, is a monster.  The fact that he has Vigilance is huge.  Facing down a big attacker?  Just throw the 'pede in front of it and he'll come back with a vengeance.  With the printing of the Undying mechanic, removal that exiles gains a lot of stock. If you want a nice five cost spell that pulls its weight (and passes the Terminate test), look no further.
Verdict:  Play
Most cube builders are cutting Basking Rootwalla in order to make room for the latest Rootwalla clone.  After much consideration, I don't believe this is correct. You don't necessarily want him to flip on your first turn and you certainly don't want him to flip back early.  As a cheap 2/2 with pump effect, he's decent enough.  In practice, however, he's just been awkward.  At least with Basking Rootwalla, I could abuse discard effects like Survival or Waterfront Bouncer.  For now you should test it, but I wouldn't be surprised if this gets cut from lists without a serious green aggro presence.
Verdict:  Test
The Multicolor Captains
I don't believe any of these make the cut for traditional cubes, but several of them may be good for Common/Uncommon lists.  These are certainly five-star cards in tribal cubes.
Verdict:  Pass
Reaver would have been an amazing blue finisher a few years ago, but he's outclassed by Consecrated Sphinx and the M11 Titans.  There is so little life-gain in cube environments that unless you connect with him, you're not going to be drawing many cards from his ability.
Verdict:  Pass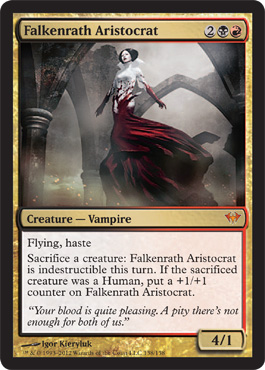 I recently cut Giant Solifuge for getting chumped by one too many 1/1 tokens. We now have a creature that not only flies over said tokens, but can devour your own small creatures to get larger and become Indestructible!  I like having Wrath-proof hasty creatures.  If you have a four to five card red/black multicolor section, I see no reason why Falkenrath Aristocrat can't have a spot.
Verdict:  Play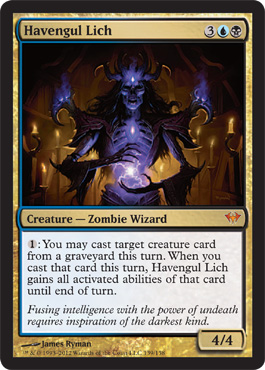 Blue/Black control decks do a few things well: They kill creatures and they play mana sources.  What better way to use that extra mana and removal than to fuel a big, reanimating machine? Against your regular creature decks, the Lich is a good creature to finish your opponent off.  He's less impressive in the control mirror.  Blue/Black has so few playable multicolor cards that Lich should be able to fit into most normal-sized cubes without having to cut something great.  My limited experience with him says that if you untap with him, you're in a pretty good position to win.
Verdict:  Play
Huntmaster of the Fells/Ravager of the Fells
I had to reread this card about 10 times before understanding what it did.  Then I had to reread it another 10 times before it sank in.  I now understand that its worst case scenario is four power between two creatures for four mana.  I have been very impressed with Huntmaster so far.  It's the aggro creature that helps you win the mirror match.  You gain a little life, your opponent loses a little life.  It's exactly the kind of card I want my Red/Green decks resolving and should be a welcome addition to cubes of all varieties.
Verdict:  Play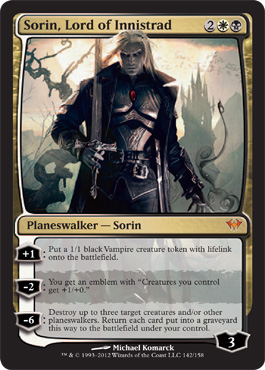 What else needs to be said about a playable four costing planeswalker?  Sorin is a slam dunk.  He's playable in aggro and control decks, and a huge enabler for tokens.  He's also downright scary on an empty board.  He easily outclasses most of the other White/Black options, aside from Vindicate.
Verdict:  Play
Elbrus, the Binding Blade/Withengar Unbound
For a mere eight mana and a little elbow grease, you can make a 13/13 creature with Flying, Intimidate, and Trample.  If you run a very tight, small cube with Stoneforge and Godo, this could do well.  Otherwise, I would only run it if you want a change of pace.
Verdict:  Pass
I used to love playing Predator Flagship in early iterations of my cube.  This about on the same power level, but the return clause kills it.
Verdict:  Pass
Tying down five lands and losing a creature to draw a card doesn't sound enticing.  I wish the ability cost one less.  If Undying ends up sticking around, I might be willing to give this card a shot.  It provides some very interesting interactions, but for now it stays out.
Verdict:  Pass
There are very few utility lands in the common slot.  I can definitely see running this in most Common lists as a way to get some extra gas in the late game.  Most normal cubes would rather play Volrath's Stronghold.
Verdict:  Pass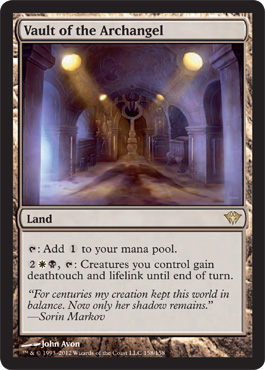 This is one of the best utility lands to come out since Gavony Township.  At the cost of tying up five lands, you can all but ruin any hopes your opponent had of doing correct combat math.  Want to swing in with a big creature?  Hope you can kill my 1/1s.  Being able to attack with a couple random beaters and gain a bunch of life is great!
Verdict:  Play
Final Thoughts
The Innistrad block is shaping up to be an amazing set for cube.  Dark Ascension adds a ton of support for various archetypes, but leaves very little to be desired for most control decks.   Be aware of this as you don't want your control decks to suffer too much as you swap out dozens of cards.  Graveyards are shaping up to be quite important as well, so I suggest making sure you have safety valves in your cube.  Relic of Progenitus, Withered Wretch, Scavenging Ooze, and Stonecloaker are all great ways to fight graveyard strategies without watering your cube down.
Thanks for reading, and happy cubing!
Matt "Kranny" Kranstuber
Trackback from your site.