The Five People You Meet in Magic: Green
Green, The Magic Friends
The player you are today is a combination of what you have done as well as the things the people around you have done to shape you into who you are.
January 21, 1996
Today is Hiroto's birthday, he is turning 14. He takes his birthday money and buys a starter deck and a few booster packs of a card game called Magic: the Gathering from his local hobby shop.
"Hey do you play Magic?" asked Ren, a local player at the store.
"No, I just like the artwork, it looks amazing." says Hiroto.
"Do you want to learn? I'd be more than happy to teach you." Ren asks.
"Sure… why not. I'm Hiroto, but my friends call me Hiro."
"Hiro it's nice to meet you I'm Ren. Let me take a quick look at the cards you have."
Ren takes a look at Hiroto's cards. He sees that Hiroto does not have the proper land but quickly reaches into his bag and gives Hiro some commons, uncommons, and lands that he needs. Ren spends an hour or so explaining the fundamentals of Magic to Hiroto and they play a few games together.
"Ren, take this" says Hiroto, as he hands over his pack fresh Mahamoti Djinn. "I don't need it for my deck and you gave me so many cards, I have to thank you somehow."
Ren quickly tells Hiroto, "No way dude. I'm glad to help, plus we need to get more players here, this game is fun but not a lot of people know about it yet. Just come back more often and when you get more cards you can thank me later. It was nice to meet you Hiro."
"Likewise", says Hiroto as he leaves for dinner.
January 24, 2004
Today is Hiroto's birthday, he is turning 22. Hiroto has been playing Magic for 8 years and he has been a regular at his local store. Today is day one of Grand Prix Okayama. Hiroto arrived yesterday with his friends Ren, Yuuma, and Aoi from Tokyo.
It is the morning of the Grand Prix and people are beginning to fill into the convention center. Hiroto arrives early with his friends hoping to get the latest deck tech. They soon find out there is a Buried Alive deck featuring Sutured Ghoul that is the newest craze. However, the card was nearly impossible to find as the dealers were all sold out and were paying ¥4000 buylist. Hiroto has most of cards on him but is missing the 2 Suture Ghouls and he is going around asking people if they had any copies for trade. Aoi remembered she had 2 Suture Ghouls in her bulk box and handed it to Hiroto.
"Hiro! I have the two Ghouls you need, here they are!" said Aoi.
Hiroto looks over to her and says, "I can't take these, you know dealers are paying ¥4000 each, I know you could use the money to help cover some of the costs of this trip. Go sell it to RisingStarGames! They might even give you ¥4500, everybody wants them right now." Hiroto was right, that day all the dealers couldn't keep Suture Ghouls in stock, they even tried to overnight some from the United States when word got out that it was going to be the breakout deck.
A spectator saw that Aoi was holding 2 Suture Ghouls and tells her, "hey I really want those for the tournament, how about ¥10000 cash for both or I can give you cards."
Aoi thanked the person for the offer but quickly turns him away. "I'm sorry, thanks for the offer but they are for my friend."
Hiro was very touched but still suggests to Aoi that she should sell the card and recoup some of her travling costs. She quickly turned his offer down and says, "No, we came all the way here, I want you, Ren, Yuuma, and I to have a great time and play the decks we want. Plus it's your birthday today, now take them!"
A few hours later, it is round 9, Hiroto was sitting at 7-1 and playing to make it into day 2 of the Grand Prix. The deck turned out to be great but wouldn't have been possible without Aoi giving him the two Suture Ghouls she owned. His friends Ren, Yuuma, and Aoi have all dropped from the tournament. Hiro had about 10 minutes before the next round began, it is almost 10 p.m. and he hasn't eaten anything since breakfast. He is very hungry but is focusing on winning his last match of the day.
"Hiro!" screams Ren, "we got you a bento box of curry chicken cutlets." His friends knew that Hiroto must have been hungry and didn't have time to eat in between rounds. "We wanted to be back to watch you win your win and in! But we didn't want you to play while starving and thirsty so we decided to get you something to eat and drink" says Ren. Hiroto quickly thanks his friends and stuffs down his meal, now he is more energized than ever to make day two.
AFTERWORD
Proverbs 27:17 – Iron sharpeneth iron; so a man sharpeneth the countenance of his friend.
Did Hiroto make day 2? I purposely left it out because I wanted you to see that it doesn't matter. There is a saying "There is no I in team", but there's no I in success either. Magic is a team game, and not just 2HG or Team sealed events. From players that share cards between one another across the lunch table to the competitive teams that playtest intensively before a Pro Tour, Magic is a game designed for people to work together.
No matter how successful you are as a player, your accomplishments in Magic is a culmination of all those around you. Every person you meet playing Magic has a unique effect on your Magic career. Consider these three:
Person A: A local player at your LGS who chooses to lend you that 15th card for your sideboard that every dealer was sold out on the day of the Grand Prix.
Person B: The Pros who stomped you silly to your first 0-4 drop at your first Pro Tour.
Person C: Your friends who spend countless hours play testing decks with you before every big tournament.
Each person in some way got you to become a better and more experienced player. Everybody realizes that while most competitive Magic events are 1 on 1, people might forget that match is only the destination of a long journey.
The best players in every sport never get to become a pro, a champion, or an eventual hall of famer without a supporting cast. Whether it is someone to support them or someone that drives them to step up their game to the next level, each person played a crucial role in that person's journey to be the best. The role might be small or it might be large but it will have a lasting effect on us.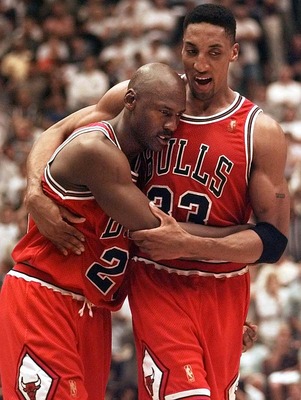 There is no better example that I can think of than Michael Jordan, who is arguably the best athlete of my generation. In his hall of fame induction speech he opened with the line, "I was just gonna come up here and say 'thank you' and walk off. I can't. There's no way. I got too many people I gotta thank." He made it clear that while it was his night to be enshrined, the speech wasn't going to be about his accomplishments but it will be about those that surrounded him.
It is no surprise that Michael gave thanks to all his teammates that helped in throughout his career, most athletes do. But as the speech progressed, he thanked Isaiah Thomas and Magic Johnson which was a bit of a surprise. He said, "I wouldn't have never guessed, but you guys (Magic, Isaiah) gave me the motivation to say "you know what, evidently I haven't proved enough to these guys. I gotta prove to them that I deserve what I've gotten on this level." While you may learn a lot about the game from your friends, you can learn just as much from your opponents. Even though you might have just 0-4 the Pro Tour, you should write down what you did wrong and what your mistakes were. Use that as a motivation tool to do better, to re-qualify, and be back even stronger. After all, you won your PTQ or Top 4/8 a Grand Prix, YOU deserved to be there… you earned it. You just now have to prove to the Pro Magic Community you deserve to stay. Any sports junkie will tell you even the great Michael Jordan had many growing pains before he found success in the NBA.
Your friends are there to not just challenge you mentally and physically but to give us that extra push when we need it. It can be staying up all night to play test before a PTQ or buying us a meal while in the wee hours of rounds 8 or 9 so we are properly nourished. Having a play group WILL make or break how well you do at a tournament and it will determine your ceiling of how great of a player you can become.
When you do decide to end the journey of Magic by hoisting the Pro Tour trophy, putting on the Hall of Fame ring, or simply retiring, make sure to thank those around you. Giving back is the best thing one can do for others. If you qualify for the Pro Tour or a SCG invitational, you should put that same energy back into your friends. Help them obtain cards, playtest, scout, and get them water and food so they can focus on winning that day. You can even watch their games and give them advice on what mistakes you saw during the match and how they should adapt in the later rounds (after the match of course). You can become a good player by grinding, testing, and playing … but you can become great if you do it with a team.
Trackback from your site.